used ASML 300 for sale
This ASML 300 has been sold.
Check our Similar Products below, use our
Search feature
to find more products available for sale or
contact us
with any questions you might have.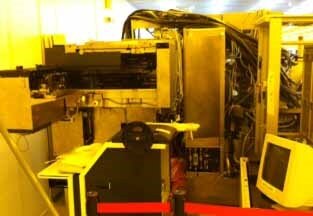 Sold
ID#: 9047521
Status: De-installed and non-demonstrable
Manufacturer: ASML
Model: 300
Category: WAFER STEPPERS
Vintage: 1998
Wafer Size: 6"
Equipment Details:
DUV Stepper, 6"
Lens under N2 purge

Options:
SECS
REFL Image sensor
Arms
Pep 1 / Pep 2: Productivity upgrade
Reticle error compensation
Flatness model
LSQ Disto model
Mark sensor
Batch streaming
Intensity 2
Focus monitoring
Aerial
IRIS
Flexible signal tower
Extended NA range
Focal adjustment
Extended exposure
TIS
Athena
Fast TTL alignment
Automated DOE exchanger
Phase modulator FTTL
Phase modulator OA
Alignment reports
Annular illumination
Athena allow high orders
Scribelane marks
Library configuration 3
Visual alignment camera

Currently de-installed and stored in cleanroom
1998 vintage.

[+] Read more
[-] Close