Used ESI 9825 #9137595 for sale
This ESI 9825 has been sold.
Check our Similar Products below, use our
Search feature
to find more products available for sale or
contact us
with any questions you might have.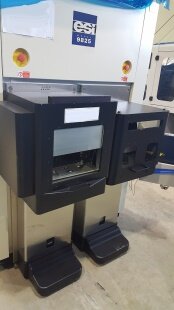 Sold
ID#: 9137595
Vintage:
2005
Wafer Size:
8"
Equipment Details:
Laser repair system, 8"
Software: Unix
Port: 2 Port
Laser wave length: 1.064um
Rep rate: 70k
Pulse width: 11.5ns
Max pulse energy: 1.0uj
Spot size: 1.6um
Accuracy: on -Axis 0.2um, Cross Axis 0.4um
MDA field: 36000um x 36000um
2005 vintage.

[+] Read more
[-] Close