Used KEYENCE LT-8110, LT-V201, LT-8105 #14087 for sale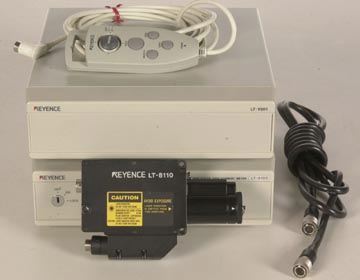 Long working distance confocal 670nm laser non-contact surface profiler with: 28mm working distance +-1.0mm measuring range 7.0um spot diameter 0.2u resolution LT-V201 camera control LT-8105 controller Camera is set on the right side of the sensor Measures reflective and transparent films 2001 vintage.
KEYENCE LT-8110, LT-V201, and LT-8105 are a suite of wafer testing and metrology systems designed to efficiently inspect and analyze semiconductor wafers. The advanced technology in these systems enables high resolution, rapid scanning of wafers in a variety of formats. KEYENCE LT-8110 is an optical beam profilometer, capable of providing detailed 2-dimensional topography images of semiconductor wafers in a matter of minutes. It features a large field of view (250x250 mm) and a fine pixel resolution of up to 5µm, making for accurate and precise results. Its advanced air scanning equipment further accelerates scanning performance by using a combination of numerical and image techniques to pinpoint regions of interest on the wafer. The LT-8110 also has an automated calibration feature that ensures consistent accuracy across multiple measurements. KEYENCE LT-V201 is a vibrometer system designed to measure the dynamic characteristics of semiconductor structures. It uses scanning laser vibrometry to accurately detect changes in the vibration characteristics of wafers and other components. This unit can be used for a variety of applications, from measuring microscopic resonance patterns to assessing the integrity of materials used in circuit boards. KEYENCE LT-8105 is an advanced wafer defect inspection machine. It is composed of a high-resolution, high-sensitivity camera and powerful illumination tool to provide detailed images of any defects on the semiconductor wafers. It has various modes of operation and enables the user to configure the imaging parameters and image analysis algorithms to capture different types of defects. Overall, KEYENCE LT-8110, LT-V201, and LT-8105 are advanced systems designed to efficiently inspect and analyze semiconductor wafers. All three systems make use of the latest technologies in their respective fields of expertise, allowing for extremely precise and accurate measurements. By providing a suite of systems designed to complement each other, the LT-8110, LT-V201, and LT-8105 provide the most comprehensive solution for wafer testing and metrology.