Used KLA / TENCOR Alpha Step 300 #140855 for sale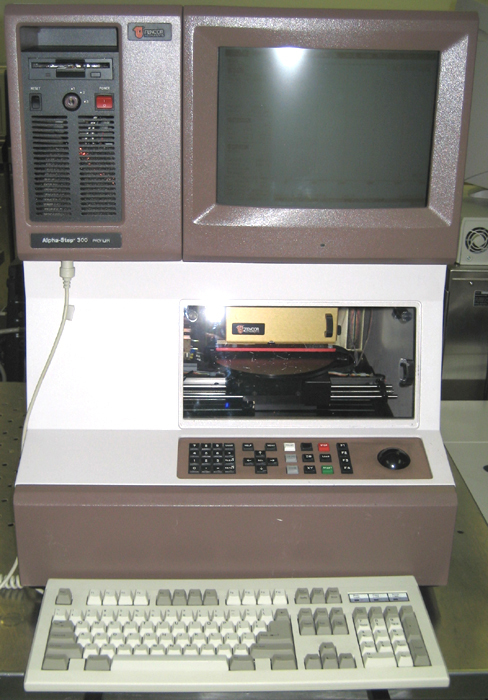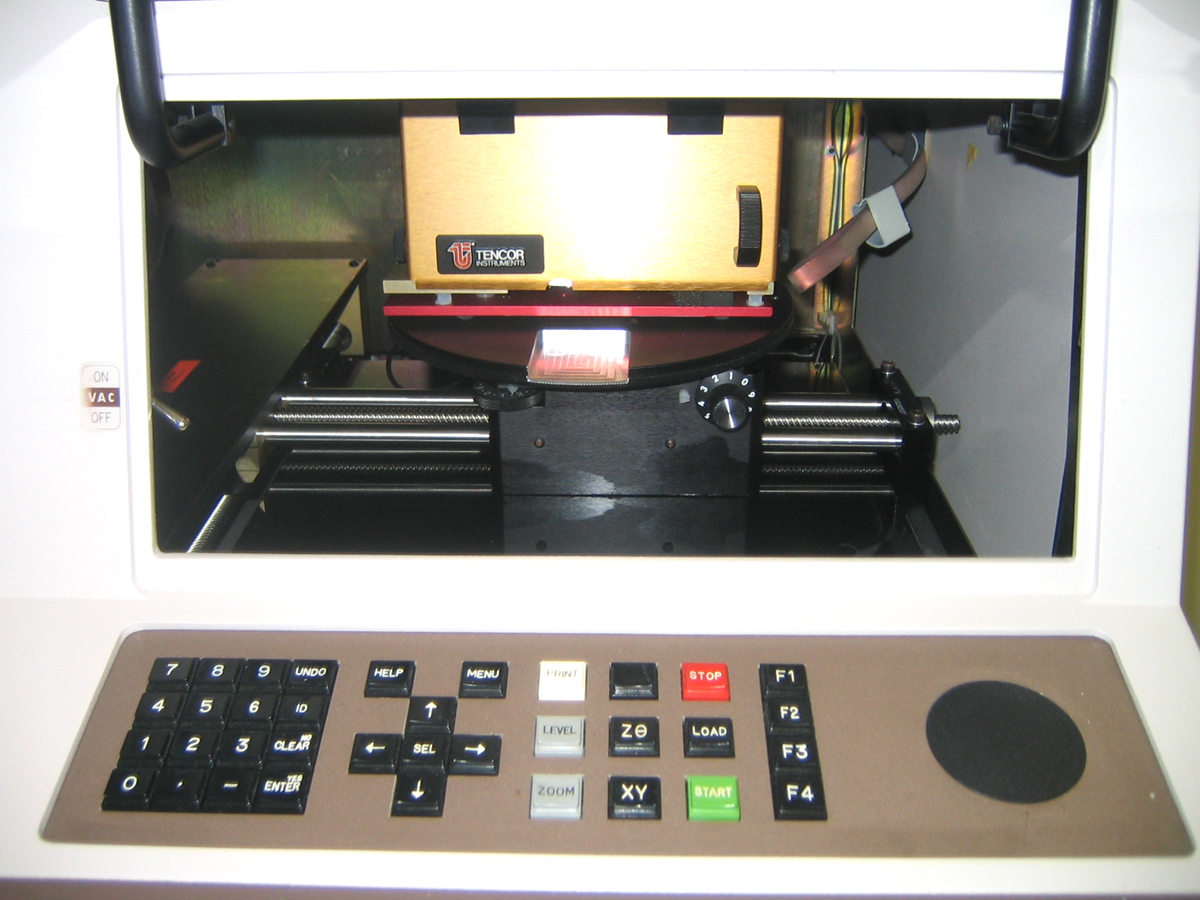 Profilometer Scan length: ±10 mm Scan speed: 2 to 250 µm/sec Sampling rate: 50/sec Nominal Vertical resolution Switchable Resolution: 6.5µm Vertical range: 1Å 150µm Vertical range: 25Å Stylus programmable force range: 1.0-100 mg Stylus programmable force resolution: 0.1 mg X, Y Maximum travel: 210 mm Maximum sample size: 254 x 254 mm Full size computer keyboard for system control Power supply: 115V, 4A, 1 Ph, 60 Hz 1992 vintage.
KLA / TENCOR Alpha Step 300 wafer testing and metrology equipment is an automated measurement tool used in the semiconductor industry to test the performance and quality of semiconductor chips. It provides precise, repeatable measurements of critical parameters such as step heights, surface roughness, patterns, line widths, and aspect ratios. The system utilizes an interferometer to record the profile of the wafer to an accuracy of 0.5 nanometers over a measurement range if up to 300 millimeters. This allows the user to detect very small changes in the wafer's shape which can have a profound effect on the quality of the finished product. KLA Alpha Step 300 also features automatic pattern recognition for precise measurements of patterns, including precise position and size. An onboard optical microscope offers the operator an enhanced capability to directly view the wafer's surface. In addition, automated software tools make it possible to measure and analyze large volume data with high accuracy. The unit is capable of measuring up to 200 samples per hour and is equipped with data storage and reporting features that make it easy to track performance over time. TENCOR ALPHASTEP 300 is offered with a range of optional components to enhance the machine's performance and capabilities. An optional high speed, large field of view linear scanner increases throughput speed to 500 samples per hour. An intelligent telecentering tool automatically adjusts the sample to the optical head, eliminating manual setup and improving throughput. A unique ultrasonic transducer option allows the measurement of unevenly spaced structures and the characterization of multi-level structures. ALPHASTEP 300 wafer testing and metrology asset is an automated measurement tool designed to provide precise, repeatable measurements of critical parameters. It is simple to use, robust, and reliable, with the capability of measuring hundreds of samples per hour at 0.5 nanometer accuracy. An array of optional components further enhances the model's performance and capabilities, making it ideal for semiconductor manufacturers seeking to ensure the highest levels of quality control and performance of their products.