Used SLOAN Dektak 303 Auto II #9124954 for sale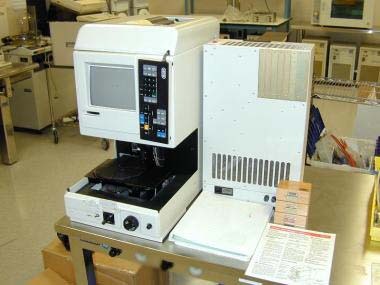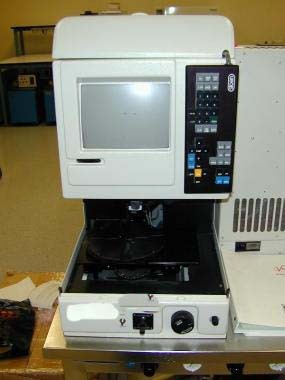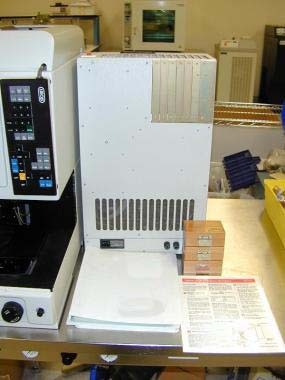 Thin film measurement system Measuring range: 100 A to 1310KA Vertical resolution: 1A in the 65000A 10A in the 655KA 20A in the 131 Micron Data points per micron: 0.04 to 40 Scan length: 50 microns to 50 mm Leveling: 2 point programmable or cursor leveling Maximum sample thickness: 1.75 inches Sample stage diameter: 6.375 inches Stylus: 12.5 micron.
SLOAN Dektak 303 Auto II is an automated equipment designed for measuring step heights of various semiconductor devices. This versatile and cost-effective system is equipped with advanced optical microscopy and digital imaging capabilities that allow for precise measurement of vertical movement from the contact profile to the flat surface of a semiconductor substrate. The unit is capable of measuring feature sizes up to one micrometer with high precision, making it ideal for measuring the step heights of wafers in a wide range of thicknesses and substrates. The machine utilizes an optical microscope equipped with a telecentric objective lens and an inclined camera mount, which provides the user with a high magnification view of the wafer surface. The lens is designed to project a clear image of the contact points onto the image plane, while minimizing image distortion and optical aberrations. Additionally, the tool utilizes a dual-axis computer controlled auto-focus asset, which ensures that each feature is accurately measured. The entire model is operated through a graphical user interface (GUI) utilizing a color monitor, keyboard, and mouse input. This intuitive design provides the user with control over all precision steps during measurement, including stage movement, z-height calibration, sensor calibration, and focus. Additionally, the equipment includes software algorithms for tracking, measuring and analyzing wafers from different locations on the sample substrate. Dektak 303 Auto II is also equipped with a high-resolution CCD imaging reticle, which provides an accurate view of the sample surface, enabling the user to measure step heights with a high degree of accuracy. The reticle's adjustable position allows the user to control the field of view, making it suitable for a wide range of substrates and sizes. Additionally, the system is capable of storing up to 256 measurements per field, enabling repeat measurements and reducing the time it takes to gather data. Overall, SLOAN Dektak 303 Auto II is an effective wafer tester and metrology tool. The unit's combination of advanced optical microscopy and digital imaging technology makes it ideal for measuring step heights with a high degree of accuracy and repeatability. Its intuitive graphical user interface and adjustable reticle make the machine user-friendly and easy to operate, making it suitable for a wide range of applications.