Used WYKO / VEECO NT 2000 #117174 for sale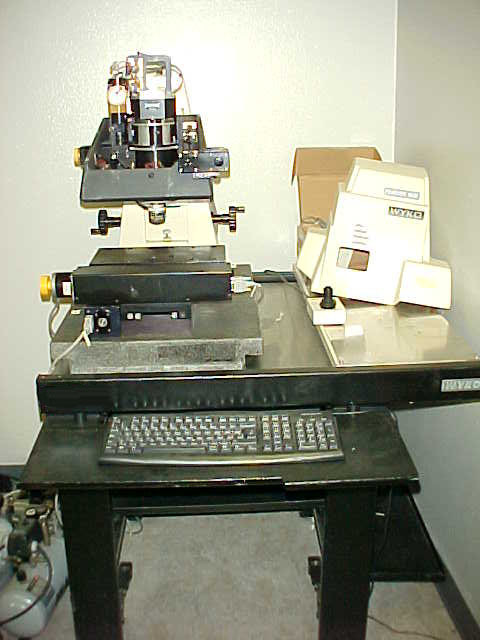 Optical profiler Manual tip/tilt and X/Y stage Computer with Vision 32 2.21 Granite base and IOA (measurement head, 2005 vintage) Full complement of FOV tubes (1x, .5x, .75x, and alignment) DAC and frame-grabber boards (computer may be available) (2) Sets of cables Trapezoidal interface box (as is) Turret.
WYKO / VEECO NT 2000 is a wafer testing and metrology equipment that is designed for both production and R&D environments. This cutting-edge system enables high-throughput analysis of wafers and dies, such as those found in semiconductor IC devices. WYKO NT 2000 offers a number of advanced features and benefits that make it the perfect choice for meeting the needs of today's high-volume semiconductor production facilities. The highly automated VEECO NT 2000 boasts a powerful auto-tilt feature that eliminates manual motion, allowing for repeatability even with warped wafers. This allows for a faster and more efficient data collection and analysis process with minimal user intervention. NT 2000 also has a number of optics-based automated measurements, including high resolution wafer mapping, sidewall detection, and defect visualization. Additionally, WYKO / VEECO NT 2000 features easy-to-use software tools so that users can quickly and easily set up the unit for automated testing, data acquisition, analysis, and reporting. WYKO NT 2000 also provides a wide range of feature versatility, from micro-scale applications to macro-scale applications. Built to support today's increasingly complex semiconductor products, VEECO NT 2000 offers comprehensive test coverage for all semiconductor fabrication operations, including lithography, etch, deposition, as well as for final product assembly. The machine is also highly reliable and accurate, with a large dynamic range of measurement. NT 2000 also includes advanced cleaning and maintenance tasks that extend its product life, ultimately saving time and money in the long-term. Overall, WYKO / VEECO NT 2000 is the ideal tool for efficiently and accurately testing and metrology of wafers, dies, and other semiconductor products. With its cutting-edge features and automated functions, WYKO NT 2000 offers unprecedented production efficiency that can significantly increase throughput, cut costs, and streamline operations.