Used VEECO / SLOAN DEKTAK II #9156427 for sale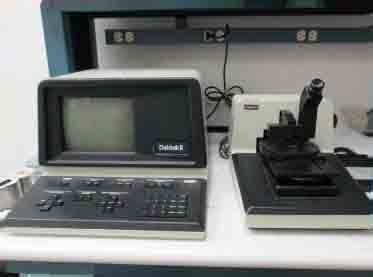 Profilometer Measurement range: 500A to 655, 000A Vertical resolution: 10A Scan distance: 100um to 30mm.
VEECO / SLOAN DEKTAK II is a a highly advanced and reliable wafer testing and metrology equipment. This system can be used for several applications, such as measuring the physical characteristics of thin film components and semiconductor devices, performing alignment and mapping of circuits, and other general metrology measurements. VEECO DEKTAK II utilizes a combination of space-qualified piezoelectric acceleration sensors and piezoresistive strain gauges to accurately measure and characterize thin film, advanced silicon, and semiconductor devices on rigid wafers or flexible substrates. This unit is capable of accurate measurements of devices in the range of 0.5 to 100 microns. SLOAN DEKTAK II operates on the latest software and platform with access to advanced automated measurement software and analysis packages, providing users with the best performance and features for their entire test and metrology requirements. It also uses advanced software tools for data analysis and graphing, allowing for detailed analysis of results and metrics. With the ability to measure in multiple axes, DEKTAK II can accurately measure thickness and defects as small as 5 nanometers, offering users an unprecedented level of accuracy and performance. The machine is capable of collecting images in various modes, including single image, multiple image, dual camera, and multiple window. VEECO / SLOAN DEKTAK II also offers several e-beam control, such as set up, calibration, and correction functions in order to ensure accurate results. Additionally, the tool is equipped with a high-end vacuum and environmental chamber to ensure optimum performance in varying environmental conditions. The asset provides superior data collection, analysis, and image manipulation functionality, giving users flexibility and versatility. VEECO DEKTAK II is incredibly accurate and reliable, making it an ideal wafer and metrology testing solution. With the latest technologies, the model can measure and characterize dozens of different types of materials on both rigid and flexible substrates, providing users with the best possible performance. As the equipment is designed to withstand extremely demanding environmental parameters, users can be assured that their results will be of the highest quality, with no degradation over time. Overall, SLOAN DEKTAK II is an advanced and reliable wafer testing and metrology system, capable of providing highly accurate and reliable results that support multiple applications.